Get to Know the Technica Staff: James Gheen
By Beatrice Allen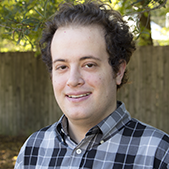 Each month, we will interview one employee to get their opinions on the publishing industry, hear what it's like to work at Technica, and learn a little bit about them. This month we are interviewing James Gheen, an editorial assistant from Durham, North Carolina and aspiring fantasy and science fiction writer.
How did you get started in the publishing industry? Did you always want to work in the publishing industry?
I think that publishing and working at Technica suits me as a guy who has always had an affinity for literature and books, both fiction and nonfiction. And given my history degree, I thought I would do well with work that involved literature and keeping track of specific details.
What is your favorite thing about working at Technica?
I find that the ability to set my own pace and the ability to get a glimpse at some very broad subject matter in a nice environment of fellow bookish, intellectual individuals is a good path for someone with my personality type.
What have you learned about publishing since working at Technica?
I have learned about how necessary it is to keep track of different styles of publishing and different ways that people choose to keep records and the different formats they use to write books. That's one of the basic things I've learned but something I hadn't really considered until I joined Technica.
What do you like doing when you aren't at work?
I like reading, more along the lines of science fiction and fantasy. Occasionally I will watch sci-fi/fantasy TV shows as well. Also, napping and going for walks.
If you could have any superpower, what would it be and why?
My superpower would be forming metal from rapping. My father always called me a wordsmith, so I always thought it would be cool if that power was a bit more literal.
If you could only recommend one book to someone, what would it be and why?
If I had to pick my personal favorite, it would be the sci-fi book Dune by Frank Herbert, because it is one of the most creative, intricate, and well-done sci-fi universes I've read. If I had to pick a more traditionally classic piece of literature, I would go with Les Misérables. The characters are just so fully fleshed out and interesting and deal with a complex and real society in an interesting era in human history. It also talks about various topics that are still relevant today.