Banned Book Trading Card: The Scarlet Letter
By Technica Staff
(All information provided below was created by the Chapel Hill Public Library and the artists who provided artwork featured on the Banned Book trading cards.  For more information on the library's celebration of Banned Books week, visit http://chapelhillpubliclibrary.org/banned-books/banned-books-trading-cards/.)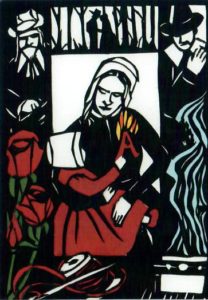 Book: The Scarlet Letter by Nathaniel Hawthorne
Reason for Banning: The Russian Czar cited moral grounds for banning the book in 1850. As recently as 1977, a school principal in Michigan removed the book from a required reading list because he felt that a clergyman's "involvement in fornication" was inappropriate.
Artist: Heather Jolley Smith
Artists's Statement: Hester endures wearing the scarlet 'A' as a punishment and becomes a woman of resilient dignity – wearing the letter on her terms. Today's women do this by overcoming body image and wage gaps.